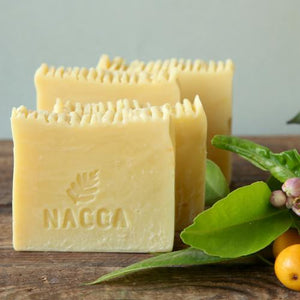 Weight: 100 grams
Natural soap Neroli
Solid bath soap made from 100% natural ingredients.
Handmade in a cold method based on olive oil, shea butter and coconut oil.
With the addition of neroli essential oil: oil extracted from the flowers of a bitter orange tree.
Suitable for sensitive, dry and older skin.
Known as an anti-stress and anxiety reliever.
Since this is a product made by hand from natural materials, the appearance of the soap may be different from the picture.
Comes wrapped in biodegradable paper wrapper, can be ordered without packaging 
Sensitivities and allergies: If sensitivities or allergies to essential oils are known, it is recommended that a sensitivity test be performed on a small area of ​​the body before use.

 

Not recommended for use by pregnant women.
- only natural ingredients
- without synthetic or chemical odors
- free from farbanes, SLS and palm oil