Made by hand for intentional living
At AMBARTIQUE we create home textiles, jewelry and also hunt down beautiful sustainable goods of selected brands & artists.
Our handpicked collections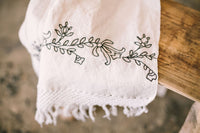 We care about sustainability
I love to find and create goods people can appreciate for its story and meaning, without harming the environment in the
process. Vintage items, products created from recyclable or sustainable materials or items which help you to build or sustain a more environment friendly lifestyle.




A little bit about me...
My name is Linda. I am a Jeweler, Textile Artist & a Shopkeeper.

I am inspired by nature and a slow living lifestyle. In my studio I try to redefine the meaning of luxury
& see imperfection as perfection. A place where beautiful goods are
created. 
more about the brand